Work is under way to fix sinkholes and other damage caused by a burst water pipe under Karbonkel Road, in Hangberg, last week.
Parts of the road caved in, leaving some motorists stranded and some literally stuck in a hole on Saturday December 5.
Resident Peter Solomons said some had thought a "mini earthquake" was to blame when they saw parts of the road collapse.
"I was standing in front of my house at the time. I saw a taxi first going down and then a bakkie. It was like something out of a movie, when the earthquakes are happening and cars are falling through the road."
"At first glance, it does look scary," added Wendy Murray. "Like the world is coming to an end, seeing the cars in the holes and the road caving in like that.
"A pipe burst and so much of the ground is removed underneath? That means to say this job was poorly done, and what if there was a bus full of kids or old people travelling there at the time?"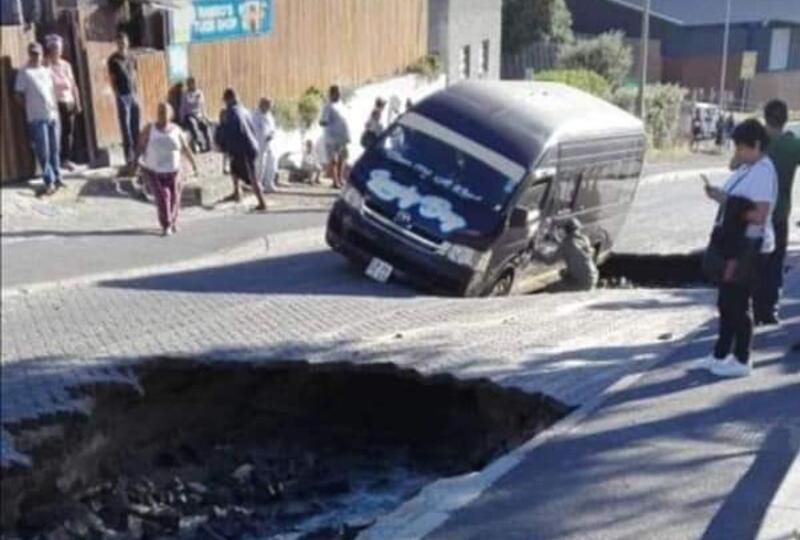 The City of Cape Town said the cause of the pipe burst had yet to be determined.
Ward councillor Roberto Quintas said gushing water from the burst pipe had shifted the embankment beneath Karbonkel Road.
"Thankfully there were no injuries reported, and I have offered assistance with the filing of a claim against the City," he said, adding that two motorists caught in the sinkholes had had their vehicles towed by the City.
The road is closed while the repairs are being done and traffic is being diverted.
Peace and Mediation Forum spokesman Warren Abrahams said parts of Salamander Road had also caved in a few years ago following heavy rains.
The City had repaired the damage, but there had also been talk at the time of upgrading the road, he said.
"To date, the community have not heard of any progress or when this will happen," Mr Abrahams said, adding that the City needed to thoroughly investigate the latest road collapse.
"The City must please redo the surveying and assessments and also check all water sewer service lines as this is the second incident of the roads in Hangberg caving in."
The Hangberg Development Forum's interim chairman, Lee Smith, said the area's infrastructure was "dilapidated", and the City was failing the community.
"Our community has been in this state for decades. This is the chief reason for the constant power outages and pipe bursts that occur on an almost weekly basis."
The forum will hold a walkabout tomorrow, Saturday December 12, to discuss municipal issues with residents.
"At present, the message is clear. Poorer communities are given sub-standard service delivery. We need to work hand in hand with the City of Cape Town to eradicate this as a matter of urgency," Mr Smith said.