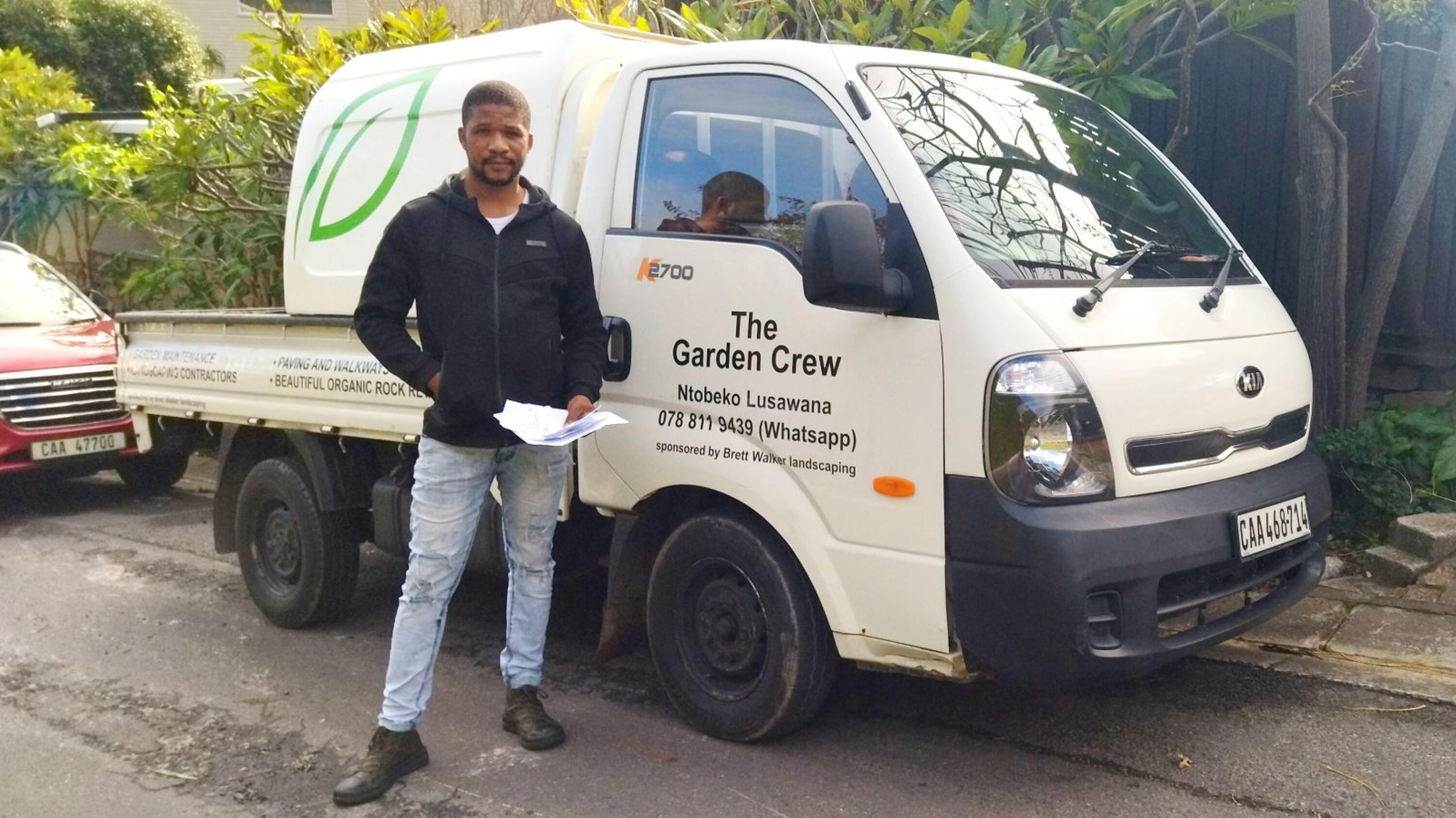 KAREN WATKINS
A Hout Bay businessmen says City Law Enforcement officers have left him more than R13 000 out of pocket after wrongfully accusing him of illegal dumping and then seizing his truck, which was then damaged at the pound.
Ntobeko Lusawana says he was approached by three City Law Enforcement officers, on Wednesday May 24 at 10am, who told him they were taking his truck. Mr Lusawana says he was offloading sand that he'd bought to mix with cement to make a berm and prevent rainwater entering his shack in Imizamo Yethu.
The officers said he was dumping illegally. He says he thought they were joking. When they started to take pictures of the truck, he says he tried to show them proof of purchase of the sand. He says they were not interested. He knew they were serious when one of them drove away in his company-branded truck.
Mr Lusawana has a small business called the Garden Crew. These six men, two casuals and four permanent, do garden maintenance and landscaping. They have a list of clients that they service on subscription.
As the truck was driven away, Mr Lusawana said all he could think of was the work commitments he wanted to fulfil.
He got a lift to Wynberg Magistrate's Court, and, wanting to get his truck back as soon as possible, he paid the admission-of-guilt fine of R2 500.
To collect his truck from the pound after paying the fine, Mr Lusawana went to Sea Point traffic department. He said he was sent to Pinelands traffic department who sent him to Plumstead where he paid R8700 to get his truck out of the pound.
He then went to Ndabeni, but because he only had a receipt on his phone he had to return to Plumstead to get a stamped paper receipt. By this time, it was too late to collect the truck.
The next day, returning to Ndabeni, he had been unable to open the doors of his truck with the keys. The door locks and handles had been tampered with and the handles broken, he said.
Mr Lusawana had bought the truck two months previously from his former boss, Brettlee Walker, after paying it off.
When Mr Walker heard about the situation he advised Mr Lusawana to open a case for the damages to the truck at Hout Bay police station. Mr Lusawana did just that and was given a case number.
Hout Bay administration manager, Lucielle Abrahams asked the vehicle's tracking company for a printout. It showed that an attempt had been made to start it at midnight and again at 3.02 am.
Mr Lusawana said that in total he had paid R13 179 from the business account for the fines and fixing the locks and handles, which, he said, had affected the income of the whole team.
Mr Lusawana showed Sentinel News receipts for the sand he had bought for R200 and the fines he had paid, the tracker records and pictures of where his house is leaking.
City Law Enforcement spokesman Wayne Dyason said the officers would have advised Mr Lusawana that he could defend himself in court against the charge that he had been dumping, but he had instead opted to pay the admission-of-guilt fine.
As for the allegations of tampering with the truck, Mr Dyason said the vehicle pound was guarded by a private security company, and Law Enforcement officials only went there to impound or release vehicles.
When a vehicle was impounded, the owner or driver had to complete a checklist noting any problems with it, and they also had to sign a receipt form when the vehicle was released, he said.
Mr Walker said, "This is a case of hijacking, extortion and damage to property. When Ntobeko started telling me the story, it just got worse. It never would have happened to me, and should not happen to him."
Ms Abrahams said Mr Lusawana and his small enterprise of six fathers provided for many families. "They are good, upstanding men within the IY community. The treatment was unfair and a total abuse of power that brought disgust and anger. I hope he can get some justice and refund of payments made as this will impact his small company finances for months to come."
Mr Dyason said Mr Lusawana would need to provide more information so the matter could be investigated further.
Ms Andrews said she had forwarded all the details and documents to councillor Roberto Quintas and the community police forum chairman Anthony Chemaly.
Mr Quintas forwarded the email to the City's community liaison officer, the safety and security directorate, the office of the mayoral committee and the mayoral committee member for safety and security JP Smith. He wrote, "Please can this be flagged with the relevant S&S personnel, and there are some concerning allegations made which require scrutiny please."