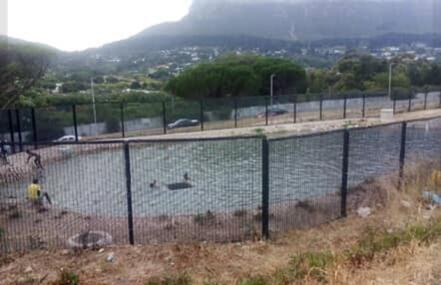 The repeated vandalism of two municipal stormwater ponds in Hout Bay could lead to tragedy, warns the City.
The ponds, situated along Hout Bay Main Road, below Imizamo Yethu, catch stormwater run-off and prevent flooding of homes and roads during winter downpours. They are fenced, but the gates have been broken several times, and children who then get into the facilities are blocking the flow from the ponds, causing them to dam up so they can be used as swimming pools, says Rob Quintas, the mayoral committee member for urban mobility.
Swimming in the ponds is dangerous, he says, because not only is the water untreated, but the children are unsupervised and at risk of drowning.
Hout Bay resident Andrew Raithby said he had seen the children "basically swimming in waste" in one of the ponds.
"They were having a blast, but, at the same time, not realising how dangerous this really is. I made an effort to show them that it's off-limits, but the heat made it hard for me to convince them otherwise."
Mr Raithby notified City Law Enforcement and the illegal swimmers were later removed.
"There need to be better opportunities to educate these kids about the real dangers of places such as these. If they are being broken into, then there is no point in blaming the council," he said.
Another resident, Sherzaan Thompson, agreed that more needed to be done to warn people about the potential dangers. She said her own children had remarked on how inviting the ponds looked. "But if you look closer, it's actually very dangerous. It just seemed like these children had no clue about the pond they were swimming in."
The City's road infrastructure management department is responsible for the ponds, but Mr Quintas said it was struggling to keep up with the vandalism and illegal dumping at the facility.
IY community leader Kenny Tokwe said security should be improved.
"We have to keep an eye on these things because it is counting against us as a community and placing people's lives at risk."
Ms Quintas condemned the vandalism as "irresponsible behaviour" and said: "It is deeply disrespectful, undermines our efforts to maintain order, and puts the lives of our most vulnerable citizens, the children, at risk.
"This infrastructure is there for a reason, and when it is vandalised, it cannot perform to prevent flooding of homes and roads when it rains, causing tragedy and misery for the surrounding communities."
The repeated vandalism was "wasting public funds" as the gates would have to be fixed, he said.
"We do this because we care and place the safety of our residents at the centre of our service delivery. However, this cannot be allowed to continue. It is costly and is a safety hazard
"I also want to appeal to the residents and parents to please ensure that their children stay away from these ponds for their own safety."
Residents can report illegal activity at municipal properties to the Transport Information Centre at 080 065 6463 or Transport.Info@capetown.gov.za